Pruning
What is pruning a tree?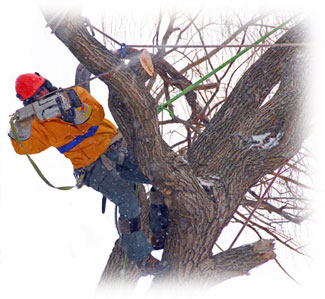 Pruning is the cutting or removing branches or parts of trees or for improving the shape or growth of trees. This is the most common tree maintenance procedure. Usually, trees are pruned preventative or as a corrective measure to remove dead branches, crowded or rubbing limbs, eliminate hazards, and increase light and air penetration. Since each cut to a tree has the potential to change the growth, it is important to hire a professional, as no branch should be removed without a reason.
When is the best time to prune my trees?
The best time would be in the fall after the leaves have dropped off the trees, which is usually around late October to late November. Hazardous limbs or deadwood may be removed at any time throughout the year.